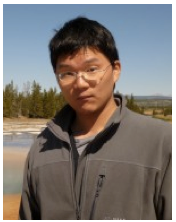 JHHLAB主持人:洪瑞鴻教授
With post-doctoral experience with Dr. Zhiping Weng at University of Massachusetts Medical School, Jui-Hung Hung, Ph.D. conducted research in various topics of Bioinformatics, especially the Next Generation Sequencing (NGS) analysis and Bioinformatics algorithm design for parallel computing.
Jui-Hung Hung, Ph.D., has been a member of the National Chiao-Tung University since 2012. He received his B.S. degree (2005) in Computer Science from National Central University, M.S. degree (advisor: Hsian-Da Huang, 2007) in Bioinformatics from National Chiao Tung University, and Ph.D. degree (advisor: Charles DeLisi, 2011) in Bioinformatics from Boston University.
His lab focuses on constructing an integrated cloud computing platform of NGS analysis and applying it to discover gems hiding under terabytes of sequences.
Email:  juihunghung 'at 'gmail.com
A.

實驗室訓練:
老師親自錄製錄影講授
現代C++ 超編程泛型程式設計
平行程式設計
機率與統計
Pattern Recognition/Machine learning
分子生物學
實驗室共同維護內部wiki網頁傳承常用知識與技術
Journal club
論文由老師親自挑選,只看頂尖期刊論文
指導研習困難的演算法以及最新的生命科學應用
與清大生科實驗室共同舉辦,跨領域互相刺激學習
B.

學生特質與能力養成
獨特性
高效C++團隊開發能用機器學習等資訊方法研究複雜系統
深度理解定序之原理、演算法以及實際應用
跨領域
能與生物、醫學、資工、電機之專家使用同一語言
橋接臨床醫學、基因體學、分子生物學、生物醫學資訊、軟體工程、電路設計
應用性
貼近產業能開發產品與應用
C.

學生畢業動向
資通訊產業
台積電(TSMC)
聯發科(MediaTek)/晨星
宏達電(HTC)
Google
新思(Synopsys)
晶睿
生物資訊
生捷生技
亞洲生物資訊
Genotech